Recent research highlights the different ways companies have been affected by the escalation of events since Russia invaded Ukraine in February, and regardless of the international scope, the majority of legal service clients report being impacted by the ongoing conflict
Since February, the Russian invasion of the Ukraine has only grown in intensity, and there has been an interest in trying to qualify the impact the ongoing conflict has on the legal industry.
Reflecting these concerns, the latest research from Thomson Reuters Market Insights incorporates new findings that highlight some of the impacts that buyers of legal services have experienced. During interviews with general counsel and legal decision-makers of global companies, survey respondents were asked: "How has the escalation of events between Ukraine and Russia impacted your business?" Despite the belligerents of the conflict itself being localized to eastern Europe, the consequences of the war have had a considerable global reach, according to respondents. Many companies that conduct some sort of international business have experienced some impact, with one assistant general counsel stating:
"It has greatly [impacted us]. Just being a global company, anything like this will affect us on some scale."
The specific nature of the impact occurred in many ways, highlighting the complexity of the issues involved. Numerous companies experienced significant shifts in relation to supply chains, prices, and increased volatility in the global economy. As one chief legal officer put it:
"We had to change supply chains for some of the raw materials we used to get in Russia; and obviously with everything happening, the cost to serve our customers has increased. We've seen increases in fuel, which means also increases in our business expenses. So, everything that we thought we had budgeted for when we came into the year, we are almost out of budget. We have to find new ways to cover the gaps. So, it's made our economy tougher."
With so many key factors involved, the conflict has also increased the complexity for legal clients in managing different needs within their business. As another chief legal officer noted:
"There is a whole range of limitations, more checks need to be done, we can trade with less countries than before, so the business is being impacted from the point of view of things being simple, from the fluidity of the process, everything has become entrenched and more bureaucratic. We take care in more detail to every single aspect of the sale, we do more checks, more verifications, more analysis."
Looking at some quantitative data, the research can give an overall picture of the impact of the conflict. It found that 66% of clients are experiencing a direct impact from the Russian invasion. This is regardless of whether they had international needs, demonstrating the reach of the conflict into many different areas of the legal industry as a whole.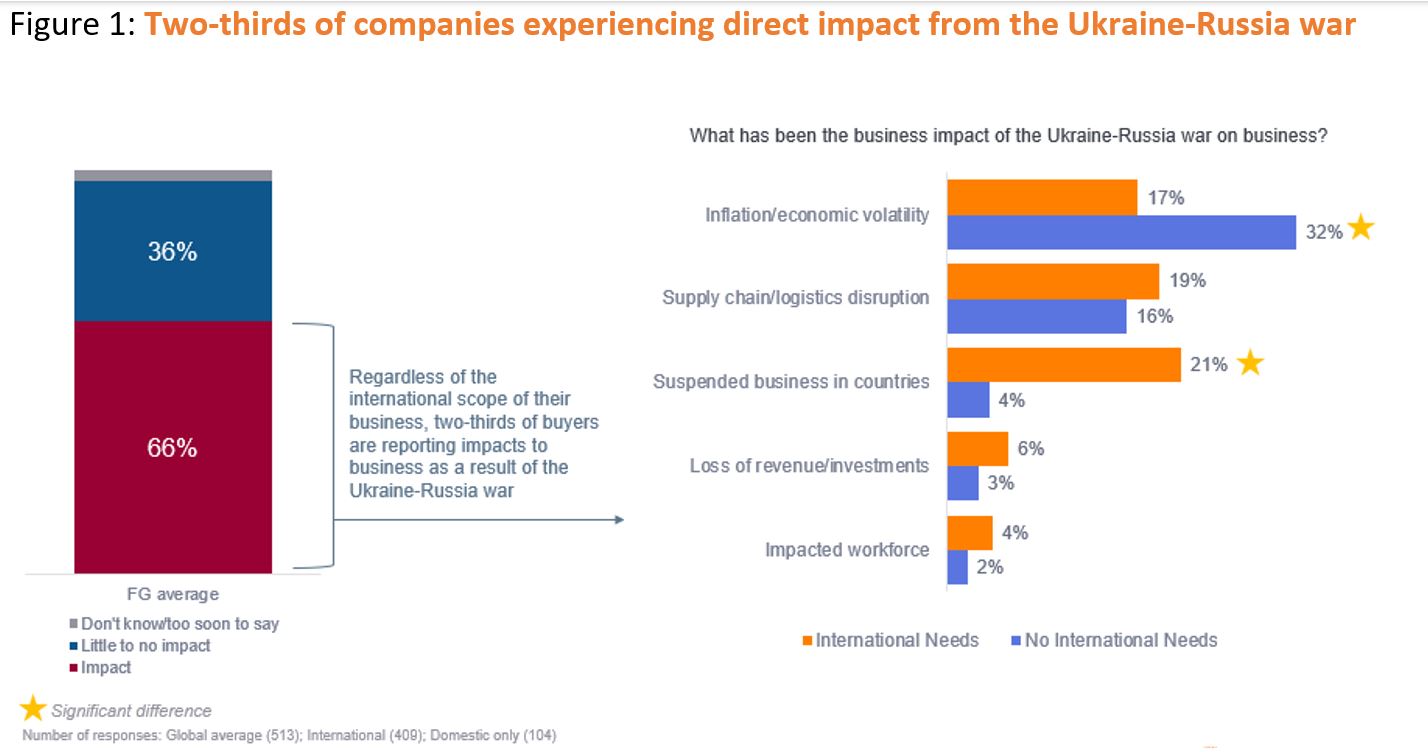 Even those buyers with a limited international scope are experiencing consequences related to conflict due to the multi-faceted ways the conflict has impacted the global economy and different business needs. Buyers with more local needs are still subject to the pressures of inflation, potential regulations, and increasing complexity. Law firms should keep this in mind as they evaluate strategic plans because there is a good chance that their clients will have some concerns related to the impact, whether directly or indirectly.
---
---
The research also looked at the specific nature of the business impact to identify some of the main factors concerning specific issues that clients faced. The research found three core themes: i) economic volatility and inflation concerns; ii) considerations about supply chains and logistics disruption; and iii) the suspension of business for those companies who directly operated in the affected region. These three themes stayed consistent across the two major categories of respondents — those with international needs and those without international needs; however, both groups cited different degrees of impact for each of these factors.
Among those with no international needs, inflation and economic volatility were highlighted as the biggest impact with almost one-third (32%) of respondents citing this theme.
The second major issue cited by both groups — concerns related to supply chains and logistics — was seen as impactful by the many businesses that have extensive operations involving materials and logistical routes impacted by the affected regions. This has led to increased disruption in these areas which have forced business to have to adapt in managing their current supply chains. "We are a pretty sensitive business to escalation, as you can imagine it is construction," said one chief legal officer. "Anything that impacts oil, to materials, to a lot of different things, have impacted cost and delivery time."
The third major issue cited was the suspension of business in countries, mostly those directly impacted by the conflict. This theme was cited the most among businesses with international needs and highlights some of the more direct impacts we have seen as a result of the invasion. Speaking about operations in Russia and Ukraine, one chief counsel reported, that the impact was considerable:
"Because we have stopped doing transactions in Ukraine and Russia. We don't have the stores open; we have them all closed. 500 stores closed in Russia and 130 stores closed in Ukraine. 10,000 workers in Russia and 1,400 in Ukraine."
Interestingly, the impact on clients' own legal operations was not as keenly felt, according to respondents. For example, the survey found that 80% of corporate law departments say they have been impacted by conflict, but they did not see any substantive impact in how they use legal service providers. For those that did cite change, this was mostly around seeking additional assistance with the navigation of new policies, as one chief legal officer notes: "We have more reliance on law firms to ensure that we remain compliant in our business dealings."
---
If you would like to gain a deeper understanding of how Thomson Reuters Market Insights research can leverage your firm's strategic decisions, contact us to request your free demo.